Memorial services for Lloyd "Bud" Albin, 90, of Polk, were held Tuesday, May 3, at the Trinity Lutheran Church in Polk.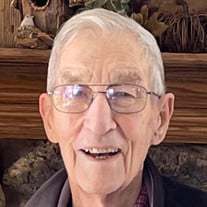 Pastor Ricardo Riqueza officiated, and inurnment was in the Polk Cemetery.
Lloyd "Bud" was born on January 6, 1932 to Earl Sr. and Alfreda (Sandstrom) Albin in Plainview, and he died on April 26, 2022.
He grew up in Plainview and graduated from Plainview High School. After high school he attended Norfolk Junior College where he played football.
He was united in marriage to Lila Mae Horn on January 25, 1952.
He then began working for KN Energy. Following their marriage, they lived in Plainview, Hartington, Laurel, St. Paul, Atkinson, and finally settling in Polk in 1968.
Albin retired in 1990 after over 37 years with KNE. After retiring he kept busy mowing for the city, helping his son-in-law with harvest, hauling anhydrous tanks, amongst other things.
He was a member of Trinity Lutheran Church in Polk and the Polk Volunteer Fire Department. The fire departments were very important to Albin in all the towns he lived in.
The couple traveled and spent a lot of time camping. He greatly enjoyed hunting and fishing with his sons, grandsons, and extended family every year. Even when he didn't hunt anymore, he would still go and enjoy the outdoors. He liked playing pitch and teaching it to his grandkids. Albin's greatest joy was spending time with his family at get-togethers.
The Albins were married for almost 70 years. His love for his wife was evident as he enjoyed taking care of her in later years when her health was failing.
He was preceded in death by his parents; wife, Lila; eight brothers; two sisters; and Randy Saathoff.
Lloyd Bud Albin, 90 is survived by his children: Mark (Carita) Albin of Ankeny, Iowa; Brad (Jeanelle) Albin of Hastings; Melody (Mick) Hoffman of Polk; Scot Albin of Central City; Ginger Burney of Grand Island, and Jill (Mike) DeMers of Hordville; 12 grandchildren, Kirk Albin, Carisa Lowe, Tyson Albin, Mikayla Staehr, Clint Hoffman, Chad Hoffman, Stacy Rossmanith, Tara Horn, Tasha Burney, Derek DeMers, Josh DeMers, and Cara DeMers; 14 great-grandchildren; sisters, Mardelle Miller of Norfolk and Shirley (Lon) Heldt of Elkhorn.
Memorials are suggested to the family to be designated at a later date. Condolences can be sent to the family at www.soltwagnerfuneral.com.