The Plainview High School Class of 1972 celebrated their 50-year class reunion at Mary's Restaurant on Friday evening, June 3.
Thirty-seven class members, plus several guests, gathered to eat, look at pictures from various
events that happened during their elementary and high school years, and gather information as to events in their lives since May 16, 1972.
Twenty members of the class attended the All-Class Reunion on Saturday. Pat (Coenen) Brookhouser was in charge of the arrangements for the event. Anniversary cake was served following the meal. Bruce Nissen, Bill Staub, Wanda Retzlaff, Jill Anson and several others assisted her in preparation for the reunion.
The Class had a goal to collect $720, or $10 for each graduate of the class, for the Plainview Alumni Scholarship Fund. $1,150 was collected that evening and from several classmates that were unable to attend the reunion sending donations.
Those attending Friday evening, and their guests, included by town (classmate first
unless otherwise noted):
Brunswick: Pat (Coenen) and Terry Brookhouser; Jill (Bartak) and Les Anson; Connie (Wood)
Knuth and Bruce Anderbery
Osmond: Daryl and Jackie HItz Hoskins: Bill and Nancy
Staub
Norfolk: LaVaille Peterson, Alesia (VanKirk) Rottler; Jane (Aubert) Christian; Maureen (Kuhl) and Mike Bivens; Larry Zautke and Claudia Graham; Lynn and Bernice Gnewuch and Tom and Mary Falter.
Omaha: Bruce and Barb Nissen; Linn (Weber) Golter and Bill Brophy; Connie Wies; Pat (Hoffman) Drummond
Henderson: Don and Teresa Norris
Orchard: Barb (Beltz) and Sam Schwager
Lincoln: Connie Johnson
Seward: Lynette (Wiegert) and Jack Broderick of Seward
Pierce: Tim and Liz Spatz
St. Louis, Mo.: Cheryl (Buss) and Robert Gadeken
Higlands Ranch, Colo.: Mary Halsey
Phillips: Deborah Anderson
Hursley, S.D.: Peggy (Wortman) Werdel
Spring, Texas: Doug and Pam (Meuret) Fusselman (both classmates)
Plainview: Bob Lingenfelter, Pat and Teri (Scranton) Wortman (both classmates), Jane (Naprstek) Demerath, Doug Pellatz, Sr., Lois (Schlote) Lubke, Laura (Bohl) Risinger; Wanda
(Weber) and Gale Retzlaff; Henry J. and Jan Goetz and Donelda (Wright) Hansen.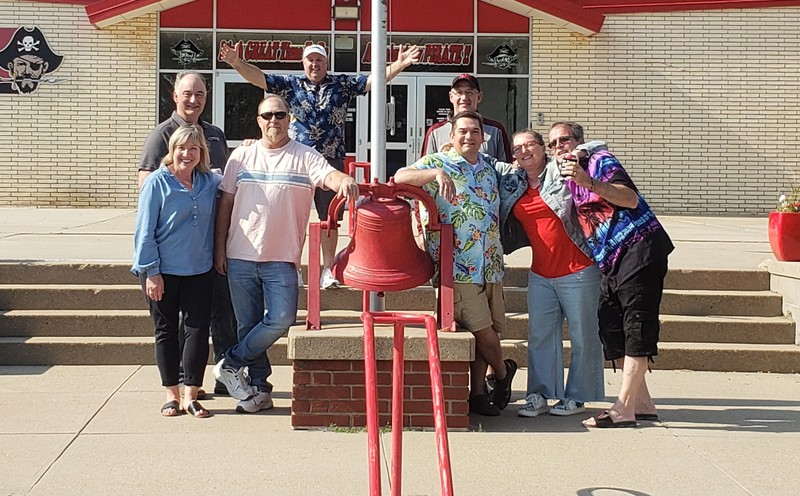 The Plainview High School Class of 1987 reunion held on Saturday. The class toured Plainview in a trolley noting homes were people once lived and other Plainview landmarks. Those in attendance were Lisa Meisner, Lori (Doerr) Doyal, Mike Kuhl, Kelly Mauer, Paul Zuhlke, Jeff Schaefer, Chris Wagner, Dean Stelling, and Chad Pittet.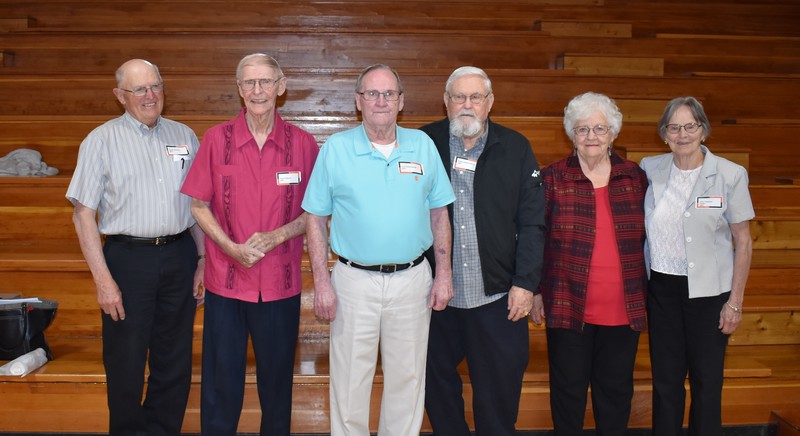 The 65-year class of 1957 gathered at Plainview Public Schools during the 2022 All-Class Reunion on June 4 (l to r): Orvill Johnson, Frank Kienow, Lynn Redinbaugh, Bob Patras, Sandra (Johnson) Cummings and Ellen (Thieman) Smith.
Members of the Class of 1952 of Plainview High School gathered at the All-Class Reunion on June 4 (l to r): Don Kuhl, Dona (Carroll) Chilcot, Laura (Holmes) DeLong and John Mullins.