The Junior Pirates' third grade volleyball team began their volleyball season with practice on August 29.
The 3rd grade has 12 girls participating in volleyball this year and are coached by Dr. Mary Dougherty and Cory Miller.
"Third grade is entry level for volleyball participation in Plainview and to have 12 girls who want to learn the game and compete is definitely a blessing," said Coach Miller. "For many of the girls this will be their first time playing competitively."
The Junior Pirates were able to squeeze in three practices before participating in the Plainview Ball Backers annual volleyball tournament on September 10, 2022. The 3rd grade entered two teams, but because of some absences, had to shuffle players between teams.
Team Plainview Red consisted of Swayzey Alexander, Ava Bennett, Jocelynn Buck, Shay Miller and Remi Wells.
Team Plainview Red's first match was against O'Neill St. Mary's #1. The first match saw the young pirates fall to the Cardinals by scores of 20-25, 15-25 and 9-15. Swayzey Alexander paced the Pirates with 14 ace serves on 18 attempts and led the team with 3 kills.
The second match pitted Plainview Red against the Plainview 4th grade. Plainview Red fell to the 4th grade by scores of 16-25, 23-25, and 8-15. Swayzey Alexander again led the Pirates with 7 ace serves on 12 attempts and had 4 kills.
Team Plainview White consisted of Jocelynn Buck, Leah Calitz, Bentley Dougherty, Shay Miller, Ryann Montgomery and Emalee Mosel.
Team Plainview White also started their day with a match against O'Neill St. Mary's #1. The Pirates fell to the Cardinals 13-25 and 22-25. No stats were available for this game. Team Plainview White took on the Plainview 4th grade in their second match and fell by scores of 14-25 and 24-26. Shay Miller led the team with 4 ace serves on 7 attempts and Bentley Dougherty had 1 kill.
On Sunday September 18, 2022, the Junior Pirates third grade volleyball teams traveled to Randolph for their first league action of the season.
The first match of the day saw the Plainview 3-2 team against Hartington. Plainview took all three sets from Hartington with winning scores of 21-9, 21-13 and 15-12. Bentley Dougherty led the Pirates from the serving stripe with 15 ace serves on 16 attempts. Shay Miller led the team with 4 kills.
In the second match Plainview 3-2 took on the Plainview 4th grade. The younger Pirates were defeated by the older Pirates by scores of 11-21, 14-21 and 4-15. Bethany Krause scored 8 ace serves on 10 attempts. Kinslee Masat and Shay Miller had 1 kill each.
The Plainview 3-1 team also played against Hartington in their first match of the day.
Plainview was able to take 2 of 3 sets for the win with scores of 21-12, 12-21 and 15-14. Leah Calitz and Emalee Mosel both served up 8 aces on 13 and 9 attempts, respectively. Swayzey Alexander scored 8 kills. In their second match Plainview 3-1 was paired against Bloomfield.
The Plainview 3-1 team claimed 2 of 3 sets for the victory with scores of 23-21, 17-21 and 15-12. Swayzey Alexander led the team with 11 ace serves on 16 attempts and scored 8 kills.
In their third and final match of the day Plainview 3-1 came up short against Randolph by scores of 19-21, 21-15 and 13-15. Swayzey Alexander scored 15 aces on 16 attempts and had 6 kills.
The Junior Pirates will continue league play next Sunday, Sept. 25th in Randolph.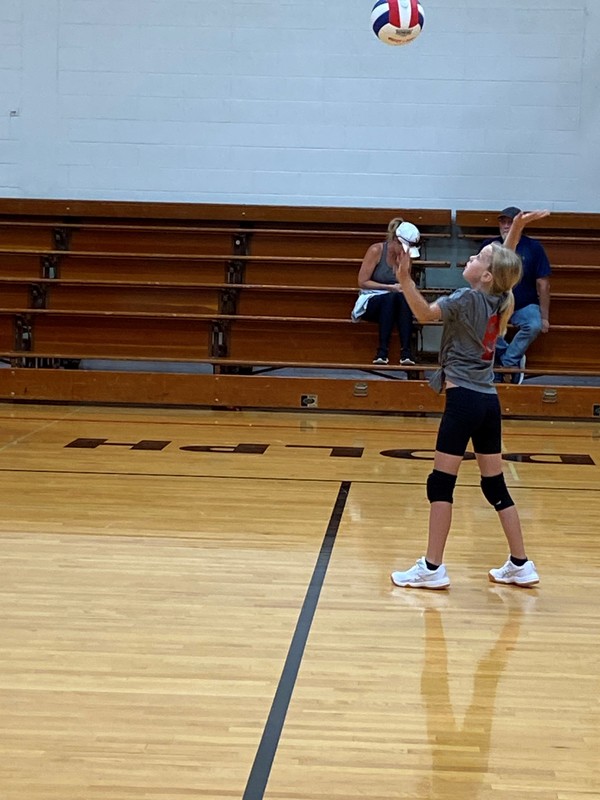 Remi Wells begins the charge for the Plainview 3rd Graders.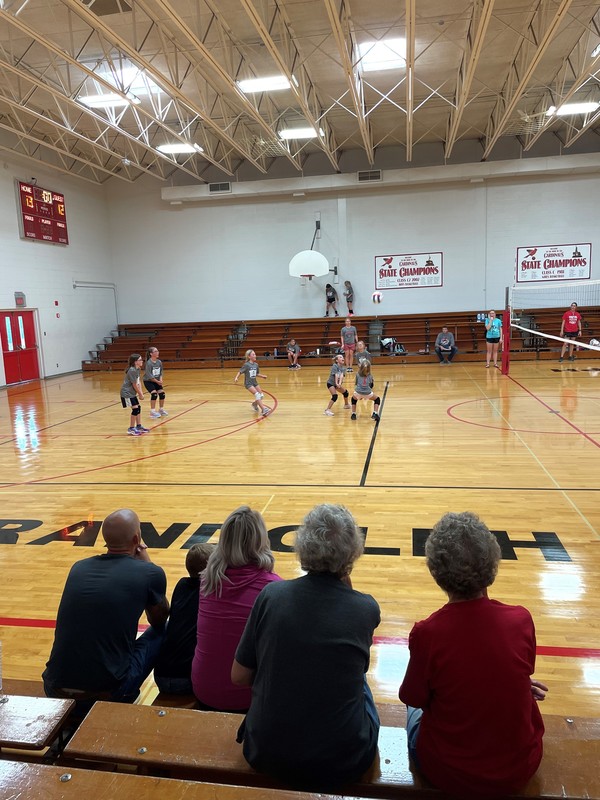 Grace Krause, Kinslee Masat and Bethany Krause hustle for the ball as Shay
Miller, Ava Bennett and Bentley Dougherty prepare for backup.
Shay Miller serves strong for the Plainview Pirates.

Kinslee Masat takes the pass for the Pirates with backup from Bethany and Grace
Krause