The Pirate Volleyball team opened up Lewis & Clark Conference play last weekend as the seventh seed and host for the first round of pool play.
This matched the team up with Winnebago (25-6, 25-13) and Tri County Northeast (25-15, 25-20).
"The team took care of business, coming away with two sweeps. It was good to see them come in and handle things, making it simple." said Coach Kim Miller.
Against Winnebago, the team was led by Claire Rasmussen, earning eight kills on 11 attempts and no errors. This led to an outstanding 0.727 hitting percentage. Teya Boyer was also consistent in the game, earning seven kills and an 0.417 hitting percentage. Boyer also led from her setting position with 14 set assists. Marque Albin dished out six ace serves and Keanu Johnson covered the floor on defense with seven digs.
In the second game against TCNE, Teya Boyer led on offense with seven kills and a 0.462 hitting percentage. Boyer also had a strong hand in defense, being a part of three stuff blocks. Madelynn Dougherty led from her setter position with 12 set assists and Keanu Johnson handled things on defense with 11 digs. The team was balanced with the number of aces handed out, with Marque Albin leading the way with three.
The team continued with conference play next week, starting with a game in Randolph against the second seeded Wausa – as of Tuesday, the team was in the conference third-place finals game.
Subdistrict play will start next week on October 24-25 – Boyd County, Creighton, EPPJ and Niobrara-Verdgire will be in the Plainview sub-district. Times and locations were not announced by press time.
Triangular – Wynot/Randolph
Pirate Volleyball headed to Wynot on Tuesday to take on Wynot and Randolph in a triangular, coming out with a loss to Wynot (15-25, 25-13, 16-25) and a sweep of Randolph (25-17, 25-19).
"Wynot is the number one team in the conference in terms of power points and we competed. On top of that we swept a strong team in Randolph. We have a lot of growing to do in a short period of time, but it is very good to see the girls put things together." said Coach Miller.
In the first game against Wynot, the Pirates were led at the net by Claire Rasmussen.
Rasmussen had 11 kills on 22 attempts, leading to an impressive 0.455 hitting percentage. She also had a hand in two stuff blocks in her middle blocker position. Teya Boyer led the team in set assists with 17. Boyer also handled the service line, recording seven aces. Defensively, Keanu Johnson did a great job covering the floor with 12 digs.
In the second game of the evening, the Pirates had a balanced attack at the hitting line.
Recording five kills each was Lauren Jelinek, Hannah Darnall and Claire Rasmussen. Teya Boyer and Rasmussen each had a hand in two stuff blocks and Boyer led the team in set assists with 14. Defensively, the team also spread the workload well with Abbie Kromarek recording nine digs and Keanu Johnson recording eight. Darnall led the team with five aces at the service line.
Vs. South Sioux City
On Thursday, the Pirates welcomed South Sioux City to the gym.
While each set was close, unfortunately the home team took the loss (23-25, 22-25, 20-25).
"South Sioux came into the game strong and we struggled a bit getting things going. Hopefully this one is a learning experience." said Coach Miller.
The team was led in offense by Claire Rasmussen with seven kills, followed closely by Teya Boyer with six. Boyer also led from her setting position with 15 set assists. Rasmussen and Hannah Darnall each had a hand in three stuff blocks and Abbie Kromarek led in defense with 12 digs. Darnall and Keanu Johnson each recorded two ace serves in the game.
JV vs. South Sioux
The Junior Varsity Pirate volleyball girls finished their season with a big win against a new opponent, South Sioux City.
Set scores were 25-15 and 25-19. "It was a dominant win and a great wrap up for our 2022 JV volleyball," said Coach Christi Boyer.
Net play was led by Hannah Darnall, who stayed very aggressive the entire match and put up four solo blocks. Topping the kills mark were Brooke Rafert and Katie Mauer with six and five respectively. Kayci Daudt was not far behind with four including some well-placed tips. Paige Norris and Shayla Jacobsen led the team in the serving department. Assist leader was Jordynn Frahm with six.
This very versatile team achieved a 7-1 overall record.
"Our Pirate JV team only lost three sets all year and were able to come together each match and play hard. The juniors stepped up and did a fantastic job of leading this group. Most of the season, subs were not an option; so these players learned to adapt and push through ups and downs. This attribute was a big positive for this team," said Boyer.
"I am very proud of these girls' efforts and their desire to learn the game of volleyball. They come ready to put a good product on the court each competition. I love their enthusiasm and desire to work as a team to achieve their goals and rally for victories!" said Coach Boyer.
C Team vs. South Sioux
The Lady Pirates C-Team took on the South Sioux City Cardinals for the last regular game of the season. The Lady Pirates came out firing and were able to claim victory in 2 sets 25-10 and 25-8.
"I am so proud of the girls and the determination they showed to win. They did everything correctly and played hard," said Coach Paige Goetzinger.
The Lady Pirates were led on the service line by Kenzie Doerr. She documented eight aces on the night. She also had 5 set assists and 5 kills. Addie Hodson had 4 aces along with 4 kills and 3 digs. Emma Sauser had 4 kills and 1 dig. Peighton Arlt and Kaydance Maertins each recorded 2 kills and 7 digs, respectively. Mallory Mauer led the Lady Pirates with 12 set assists. She also had 2 kills and 2 digs. The Lady Pirates ended their season with a record of 8-2.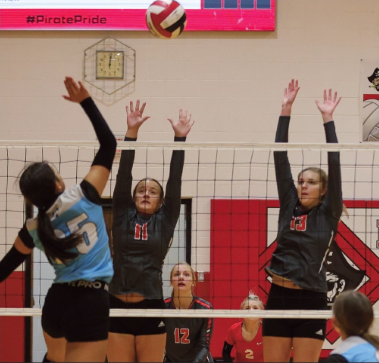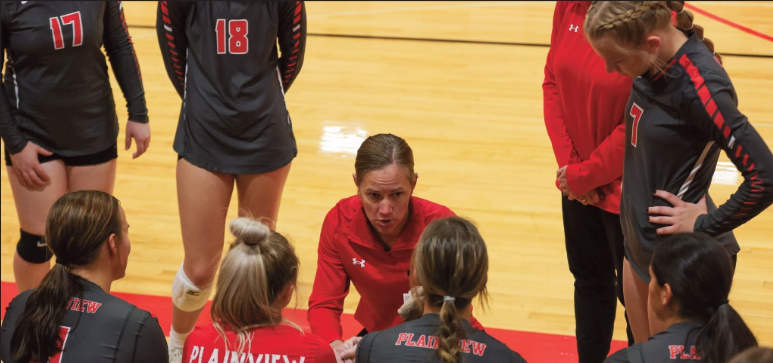 Want to see more photos from the game? Then be sure to swing by SmugMug, and maybe purchase some to support the Plainview News: https://paperandink.smugmug.co...