The Plainview Pirates notched a loss on the road in the team's first run at a post-season game in a number of years – falling 59-26 to Elmwood-Murdock on the Knights' field last Thursday, Oct. 20.
The Pirates finished the season with a 5-4 overall record, 3-2 in the district – taking games at home 3-1, and 2-3 on the road.
The Knights came out early in the Pirate camp, taking 7 points in the first quarter and holding the Pirates scoreless. The halftime break had the Pirates on the board with 6, and Elmwood-Murdock at 32. In the third, the Pirates added another 14, but the Knights posted another 20, putting the score at 52-20, and the Pirates weren't able to add enough, taking the loss, 59-26 at the final whistle.
The Pirates had a tough time with their rushing game, posting just 65 total yards on the ground, compared to the Knights' 443 rushing yards. The Pirates made up a bit on the yards through the air with 359 forward yards on 26 attempts, to the Knight's 198.
On the team's ground game, Leighton Medina had the high yardage for the Pirates with 35 on 10 carries. Tanner Frahm had 14 carries for 26 yards and Karter Lingenfelter had one for two yards.
Spencer Hille posted the team's top yardage in receptions with 131 on nine catches. Karter Lingenfelter was next with six receptions and 95 yards. Brendan Weber posted 89 yards, Leighton Medina had 25 and Rece Frahm marked 19.
Defensively the Pirates were led by Frahm, who marked eight solo tackles and 11 assisted. Hayven Stewart was credited with seven solo and nine assisted for 16 total tackles. Caden Ickler had two solo and 11 assisted; Karter Lingenfelter had three solo and nine assisted; Brendan Weber had seven total, Zach Cahill had four, Spencer Hille and Xander Albin each had three and Kayson Maertins and Harrison Thor were credited with one each.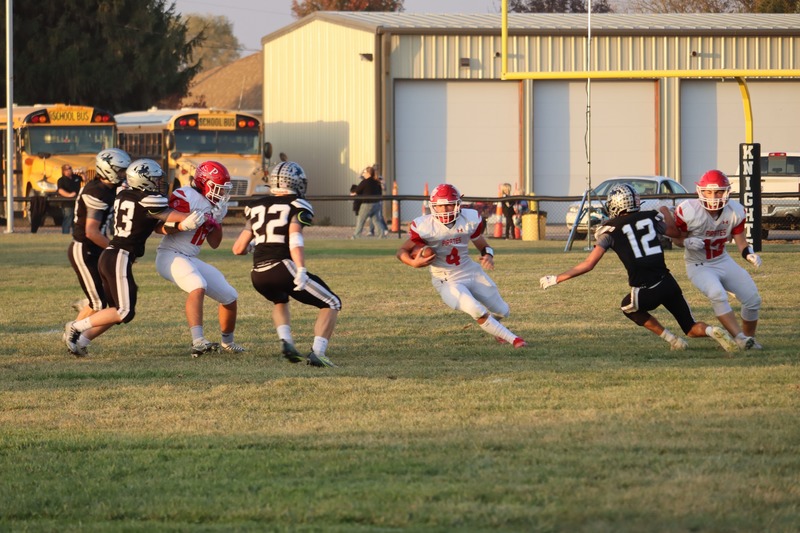 Spencer Hille looks to dodge a Knight at the E-M game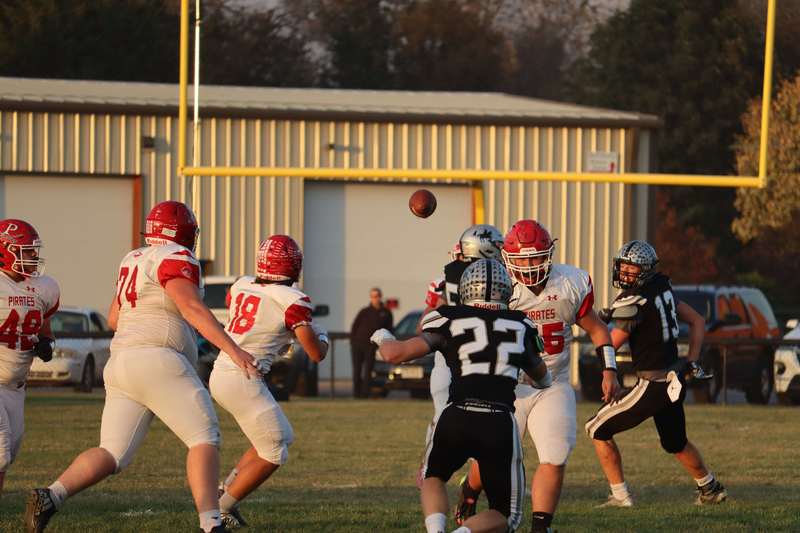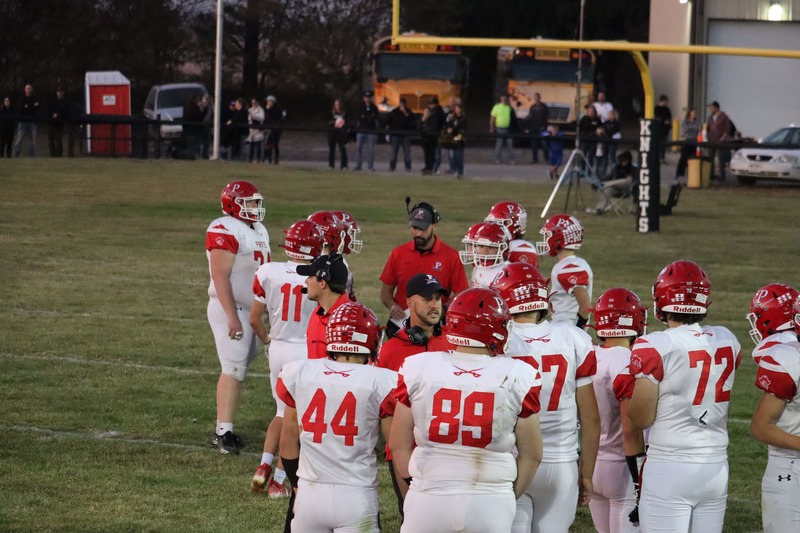 To get other photos from other sports or school events, visit the Plainview News' SmugMug: https://paperandink.smugmug.co...